Enjoy the Galapagos Islands on an all-inclusive cruise. Catamarans to the Galapagos Islands February 2018.
Are you looking for a cheap catamaran cruise to the Galapagos Islands? In our portal is the information that is required to book your cruise the beautiful Galapagos Islands, a sanctuary still virgin where wildlife is incredible.
Landscapes of great beauty, a diversity that does not leave indifferent and volcanic rocks that tell a story of five million years, are three unique characteristics that captivate those who travel to the Galapagos Islands; a place still untamed where there are two thousand endemic species, among them the famous marine iguanas and the Galápagos furrier.

Cruises in the Galapagos Islands
The term "catamaran" literally means two trunks joined by a rope and is used today to describe several hull ships. In the Galapagos Islands, catamaran cruises are famous for their stability, great speed and size. Having the privilege of visiting the Galapagos Islands by catamaran is one that you cannot miss. The luxury cruises in Galapagos offer you all inclusive packages of several days where you can enjoy a comfortable and safe trip. All of our catamaran cruises on the islands have comfortable cabins, restaurants serving national and international dishes, swimming pools, viewpoints and everything required to make your stay a great experience.
These are several of the must-see places you can visit on some of our Galapagos Island cruises. It is possible to make your reservation online and get a discount if you pay in advance. Do not miss the opportunity to know one of the most beautiful places in the world. If you are looking for cruise trips for groups or solo travelers, this is the best option.
Santa Cruz Island: Thanks to its location in the center and its proximity to the Baltra airport, is one of best known Galapagos tourist places, housing the city with the largest population of all, from where they leave the most of the boats visiting other islands and islets. One of its biggest tourist attractions is The Station Scientific Darwin, a center of scientific research open to the visitors, where is possible observe terrestrial lizards and turtles of big magnitude. Another site that highlights in Santa Cruz Island corresponds to Turtle Bay, paradise white sands beach and crystal clear waters, to the coasts arrived hundreds of turtles to lay their eggs.
Leon Dormido on San Cristobal Island: A place also called Kicker Rock; correspond to two huge rock formations of lava, which rise for more than 100 meters over the ocean, which can be from the ocean from Puerto Baquerizo. Its curious name comes from similarity to a sleeping sea lion, to see them from a distance. This place is one of the most famous tourist areas of Galapagos for snorkeling and diving, being possible to swim with stingrays, sharks, sea lions and fishes. Its sharp rocks also make of the habitat of enormous colonies of birds, coexisting varieties like blue-footed boobies, frigate birds and pelicans.
Bartolome Island: One of the places of Galapagos that receives greater fascination thanks to its volcanic landscapes, rock formations that have tones red, orange, green and black. His two visitable sites correspond to "La Playa" and the "Escalera", the first located between abysmal cliffs, allows you to immerse in the world below the shallow, making diving among penguins, turtles and others unique fishes in the world. The Escalera on the other hand, is the viewpoint of most amazing natural origin of the archipelago, on the top of an extinct crater, being possible to see an overview of the same island with his lava cones.
Daphne Major: The Daphne Islands (Daphne Major and Minor) are two small islands of volcanic origin in the Galapagos Islands archipelago. The largest has an area of 0.39 km². Daphne Mayor is located at the north of Santa Cruz. It is formed by a crater of lava, has no trees and very little vegetation and the edge is 120 meters above sea level. There are many breeding birds that go to raise their chicks in the environment near to the crater. Although easily accessible to visitors, the Park Service does not allow many visits to this island and are mostly dedicated to scientific research.
Grow Your Creative Side
Something that draws the attention of these trips is that they are known for being a great source of inspiration, concentration and creative strength. Many playwrights, singers and painters have said that walking the Galapagos Islands has given them new ideas. Whether its experts as amateurs, this is an interesting opportunity for all who need inspiration to develop their art.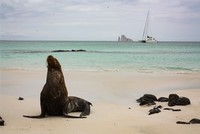 Galapagos Wildlife Catamarans to the Galapagos Islands February 2018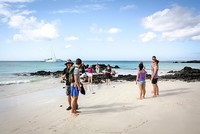 Galapagos Tour Operator Catamarans to the Galapagos Islands February 2018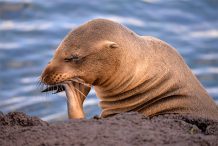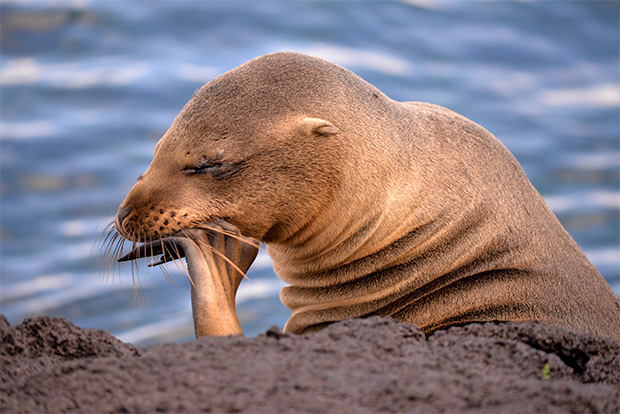 Cruise to the Galapagos Islands from Lebanon