Find the best alternatives to travel to Galapagos Islands. Catamarans to the Galapagos Islands January 2018.
Cruises in the Galapagos Islands. If you want to experience an incomparable experience, travel with us on one of the cruises that travel the most recognized places of this place. The most desired place of travelers of the planet to admire the most unique flora and fauna of the planet.
In terms of climate in the Galapagos Islands there are two seasons. The rainy season lasts from January to May, with temperatures ranging from 23 ° to 27 °, and a rainy season from June to December, with a maximum of 19 °. The official currency of the place is the US dollar, which is important not to change all the money we have when we arrive in the country.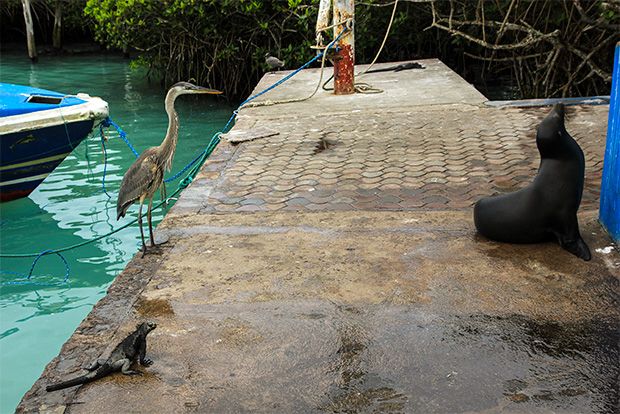 Touring Galapagos
Galapagos has 2 airports. If you decide to visit San Cristóbal, you can surf and dive. In addition to this you will have the possibility to stroll through places like Tongo Reef, La Lobería, Punta Carola and Punta Pitt, Roca Ballena, among others. If you arrive in Baltra you will find yourself near the Island of Santa Cruz and you can visit the breeding centers of the giant tortoises, the Galapagos Park and the famous station Charles Darwin. In addition you will get to know Tortuga Bay which is the largest and well known white sand beach in the Galapagos.
If you are looking for a summary of what you may be surprised to travel to the Galapagos Islands on an all-inclusive cruise, below we point out several of the tourist points that can be known. If you have questions about the trip and the days of duration, please contact us.
Floreana Island: It is located 60 kms to the east of the Espanola Island. Floreana is well known for its attractive history of pirates, whalers, and settlers. Here you can observe between December and May pink flamingos and nesting sea turtles. Also you can find a small population of galapagos penguins. Floreana also known as Santa Maria Island has approximately 150 habitants and is one of the four islands populated in Galapagos. His access port is Prieta Beach. In the inside of the island at the top, you can visit the Chakras of Ritter and, to the South, the Haven of Peace.
Sullivan Bay on Santiago Island: Sullivan Bay, home to one of the archipelago most unknown with natural habitats, with incredible lava fields in a wavy form, very similar to a mars landscape. A route of little more than a mile and a half, it allows to pass through the most relevant places of interest of the Bay, being within reach us impressive mineral samples, among them are molds of trees, before being calcined by the old volcanic eruptions of the site.
North Seymour Islet: Covered with low vegetation and dense, is notable for its almost immaculate state of nature, something that is more difficult to find in larger islands. The tour is conducted based on a trail of 2 km in length that crosses it from end to end, route that allows crossing with frigates, land iguanas and sea lions.
Get inspired
Something that draws the attention of these trips is that they are known for being an inexhaustible source of inspiration, reflection and creative force. A lot of playwrights, poets and sculptors have assured that walking the Galapagos Islands has allowed them to work on new ideas. For both experts and amateurs, this is an interesting opportunity for all who are looking for inspiration to develop their art.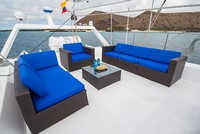 Galapagos November Catamarans to the Galapagos Islands January 2018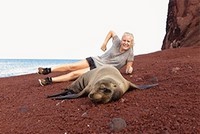 Galapagos Island Vacations Catamarans to the Galapagos Islands January 2018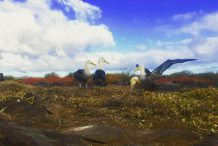 Cruise to the Galapagos Islands from Mauritius