Get to know the Galapagos Islands in a luxury All Inclusive boat. Cruises to the Galapagos Islands for 13 people October 2018
Declared a World Heritage Site by UNESCO, the archipelago is almost entirely a National Park, encompassing thirteen islands and more than a hundred islets and rocky outcrops. Thousands of travelers travel every year to observe a natural spectacle that has no equal in the world, since a large number of animal and plant species of the Galapagos Islands do not exist anywhere else, so we must travel to this place to see them. Undoubtedly, it is an extraordinary experience that changes not only your life, but also discovering the real beauty of nature at its best.
In climate terms in the Galapagos Islands there are two seasons. The rainy season runs from January to May, with temperatures between 23 ° and 27 °, and a season without rain from June to December, with a maximum of 19 °. The official currency is the US dollar, which is important to know not to change all the money we have in Ecuador.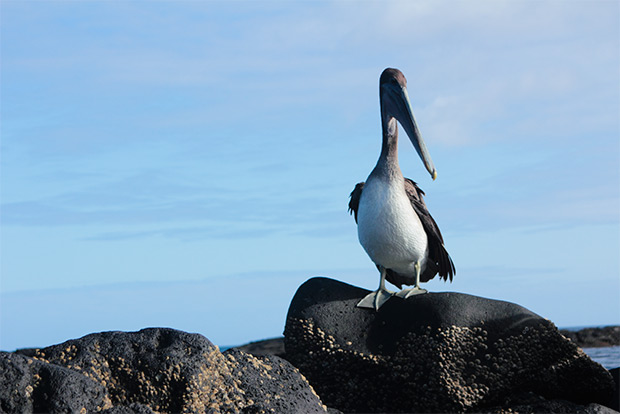 Location of the Galapagos Islands
They are located in the Pacific Ocean almost one thousand kilometers from the western coasts of Ecuador, being its continental city Manta closer. The closest island lands are Isla Del Coco (Costa Rica) 720 kilometers to the north and Easter Island (Chile) 3,200 kilometers to the south. Formally, its name is officially Galápagos Archipelago and its exact location is between 89 ° and 92 ° east longitude; and 1 ° 40 'north latitude and 1 ° 30' south latitude.
If you want a small summary of what you can surprise when traveling the paradisiacal Galapagos Islands on a catamaran cruise, we present a series of tourist spots that you can visit. If you have questions about the payment conditions and the days of duration, do not hesitate to contact us.
Espanola Island: With 300 million years corresponds to the oldest island famous for its number of birds, among which are the funny blue-footed boobies, birds known for their mating rituals, where the male exhibits his blue feet to the female. One of its most interesting sites is Punta Suarez, an area of abyss in where we can see species that not is presented in the rest of the archipelago, as marine iguanas turquoise with red, mockingbirds, lava lizards and colonies of up to 15.000 albatross.
San Cristobal Island: Undoubtedly one of the most entertaining points of Galapagos, on whose coasts we can find some of the largest colonies of turtles of the archipelago. To the southeast of San Cristobal, is the Galapaguera of Cerro Colorado, a project of rescue resettlement of giant turtles that allows can be a few steps from these magnificent creatures during their first two years are cared in captivity. Moving to the northeast of this island, we find the Natural Galapaguera, place where you can see turtles in their own environment, on the beach where they nest or in the sand dunes where they spawn. An area of outstanding beauty is The Loberia, beach of coral sand where you can see many sea lions and marine iguanas, also birds like Canary Maria, and several species of finches surround the area. On its western coast is The Baquerizo Moreno port, the sector populated more important of San Cristobal and the second in the archipelago, where you can find a wide range of hotels and airport. His second attractive more visited is Gardner Bay, a beach recognized for its beauty, where lives a significant colony of sea lions sleeping peacefully in their arenas.
Natural Lookout "La Escalera" in Bartolome Island: A natural spectacle located at the top of a hill, at more than 100 meters of altitude, from where are one of the most popular postcards of the islands, composed by a narrow strip of sand separates by the ocean into two bays, with the coast of neighboring Santiago Island as background and a stone strut at one of its ends. After enjoying the views, it is possible to go down to the beautiful beaches, where it is possible to do surface diving and snorkeling. The two most important species of Bartolome are the sea turtles, which choose this place to spawn and the Galapagos penguins.
Chinese Hat: Chinese Hat is a small island close to the southeast of the Santiago Island and whose extension is less than a 0.25 km2. It's a recent volcanic cone. The traditional form of the Chinese hat can be seen clearly from the north side. In front of Chinese hat, on the rocky edge near to Santiago, you can see easily the galapagos penguins. A short 400m long trail passes through the cove, and steps from a colony of sea lions and iguanas that covering the horizon. The volcanic scenery is very interesting, and it is possible to practice snorkel.
Paradise on Earth
In our all-inclusive trips there is the possibility of observing and walking through the habitat of animal species that have been hidden for centuries, with an unimaginable wealth and totally still free of human intervention.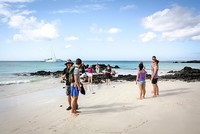 Travelling To Galapagos Cruises to the Galapagos Islands for 13 people October 2018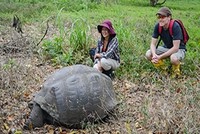 The Galapagos Islands Tours Cruises to the Galapagos Islands for 13 people October 2018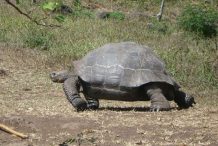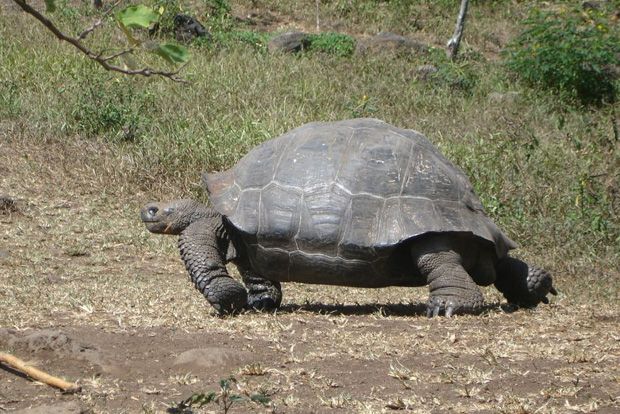 Tour Packages to the Galapagos Islands February 2018