Is it worth knowing the Galapagos Islands? Get to know the details of the best value tourist packages. Cruises to the Galapagos Islands for 2 people May 2018
Do you want to have the most incredible vacations of your life in an incredible trip to the Galapagos Islands? Travel on a cruise through this extraordinary place, with incomparable landscapes and many places to go. It will certainly be a magical life experience you will not forget.
In general two stations can be considered. From December to June it is known as the Warm Season. And the second climatic season that goes from June to November called Dry Season. The best time to visit Galapagos is the transition months. But any month is valid to visit the islands, there is no month when the weather is unpleasant or you cannot see interesting flora and fauna on your visit.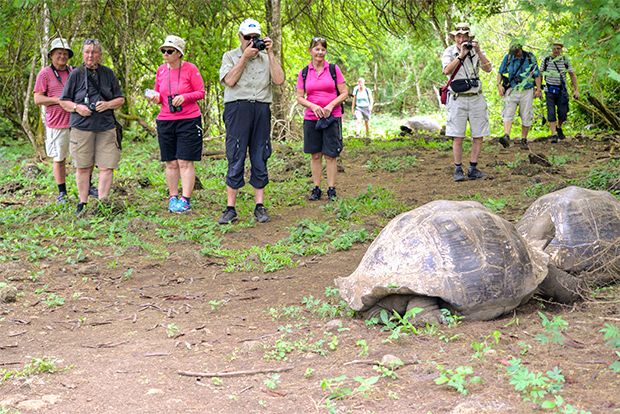 Since there are two extreme climatic seasons, which indicate the beginning or the end of reproduction for the great majority of species, there are months in which the two phases can be seen at the same time. There is a transition between the hot season and the dry season), and later a transition between the dry season and the hot season (November to January).
Getting to the Galapagos Islands
Galapagos has 2 airports. If you wish to travel to San Cristobal, you will have the option of being able to practice surfing and diving. In addition to the above you will have the possibility to visit sectors such as Tongo Reef, El Cañón, La Lobería, Manglecito, Punta Carola and Punta Pitt, Roca del Este, Roca Ballena, among others. If your destination is Baltra you will be closer to the Island of Santa Cruz and you will have the possibility to know the mating centers of the giant tortoises, the Galapagos National Park and the well-known station Charles Darwin. You will also arrive at Tortuga Bay which is the largest known white sandy beach in all the islands.
If you need a brief summary of what you may be surprised to visit the beautiful Galapagos Islands on an all-inclusive cruise, we show some of the sights that can be traversed. In case of doubts about the trip and the days, do not hesitate to contact us.
Espanola Island: With 300 million years corresponds to the oldest island famous for its number of birds, among which are the funny blue-footed boobies, birds known for their mating rituals, where the male exhibits his blue feet to the female. One of its most interesting sites is Punta Suarez, an area of abyss in where we can see species that not is presented in the rest of the archipelago, as marine iguanas turquoise with red, mockingbirds, lava lizards and colonies of up to 15.000 albatross
Isabella Island: Even though is the largest island of all, it has a unique town corresponding to Villamil Port, a beautiful village in which there are numerous accommodations and whose atmosphere is notable for being rather more quiet than Ayora Port. Inside its main attractions stand out Punta Moreno, where live flamingos and many other types of birds, from where you have a beautiful view of Sierra Black, Blue Hill and the top of Fernandina Island. To discover other kinds of wildlife is a good idea to move to Urbina Bay, where there are iguanas, sea lions, cormorants, penguins and blue-footed boobies.
Santa Fe Island: Uninhabited island by the man, known for beaches of calm waters in the Barrington Bay, where you can walk in both arenas where sea lions abound like diving snorkeling surface. If you like animals, you can see giant land iguanas, unique animals of this island, which reach up to a meter in length.
The wildest nature
On our catamarans we can observe and enter the habitat of animals that have been hidden for centuries, with incredible wealth and, fortunately, immaculate.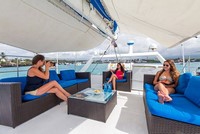 Trip To Galapagos Cruises to the Galapagos Islands for 2 people May 2018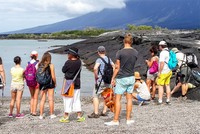 Galapagos Tour Cruises to the Galapagos Islands for 2 people May 2018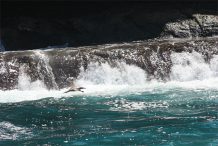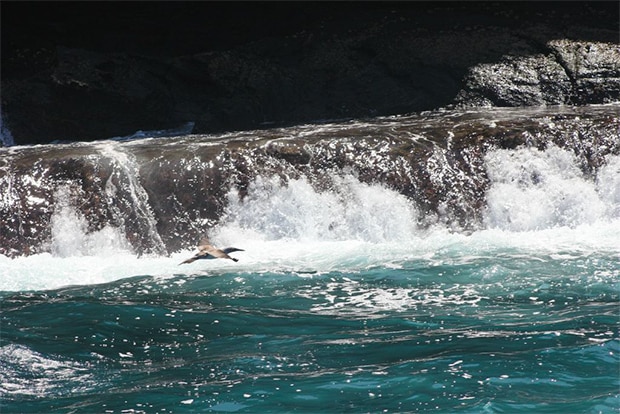 Cruise to the Galapagos Islands from Ivory Coast