Discover the Charles Darwin Scientific Station, Rabida Island, Sleeping Lion and many other places of great tourist value in the Galapagos Islands. Destinations and Places Galapagos Islands 2017
Do you want to spend the best vacations of your life on a trip to the Galapagos Islands? Travel on a perfect catamaran to tour this incredible place, with unique landscapes and lots of places to explore. It will be an indescribable experience that you will never forget.
Oceanic and jungle landscapes, a biodiversity that does not leave indifferent and geological remains that tell a historical account of five million years, are unique characteristics that love those who travel to the Galapagos Islands, a sector virgin where there are almost two thousand endemic species , Including the famous giant land tortoises and the Galapagos dwarf heron.
How to get to the Galapagos Islands
Galapagos has 2 airports. If you decide to visit San Cristobal, you can practice surfing and low-depth diving. In addition to the above you can walk through places like Tongo Reef, La Lobería, Punta Carola and Punta Pitt, Roca del Este, Roca Ballena, among many others. If your destination is Baltra you will be closer to the Island of Santa Cruz and you will have the possibility to walk through the breeding centers of the giant tortoises, the Galapagos National Park and the Charles Darwin Station. You will also arrive at Tortuga Bay which is the famous white sand beach in the Galapagos.
If you are looking for a brief summary of what you can find when traveling to the beautiful Galapagos Islands on a catamaran cruise, we present several of the tourist points that you can know. If you have doubts about the conditions of payment and the days of duration, do not hesitate to contact us.
Espanola Island: With 300 million years corresponds to the oldest island famous for its number of birds, among which are the funny blue-footed boobies, birds known for their mating rituals, where the male exhibits his blue feet to the female. One of its most interesting sites is Punta Suarez, an area of abyss in where we can see species that not is presented in the rest of the archipelago, as marine iguanas turquoise with red, mockingbirds, lava lizards and colonies of up to 15.000 albatross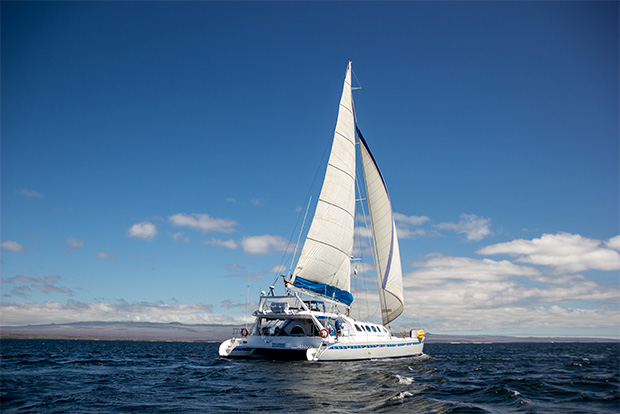 La Lobería on San Cristobal: One of the most visited places in the Galapagos is this beautiful beach of coral sand and crystalline waters, named after the large number of sea lions that can be seen every day, lying between the rocks or plunging into the sea. In addition to sea lions, turtles and sea iguanas are frequent on the beach, as well as several species of birds, such as the Maria canary, frigates and various kinds of finches. It is also possible to snorkel and if you have good fortune to swim with a sea lion.
Santa Fe Island: Uninhabited island by the man, known for beaches of calm waters in the Barrington Bay, where you can walk in both arenas where sea lions abound like diving snorkeling surface. If you like animals, you can see giant land iguanas, unique animals of this island, which reach up to a meter in length.
Sullivan Bay: Is located to the southeast of the Santiago Island. Here you can see interesting lava formations, which called the attention of scholars and scientists around the world. Sullivan Bay enjoys a height of 114 meters above sea level, where you can observe marine and terrestrial birds, a colony of sea lions and iguanas. Several plants stand out of the rocks. At Sullivan Bay there is a road of a kilometer and a half long. In this peculiar island you can enjoy swimming and make snorkeling from the edge of the beach.
The definitive learning
Travelers, particularly children, have the opportunity to participate in experiences and encounters with the guidance of a true expert. This person is able to count absolutely all the data that have to do with the volcanic formation and history of Galápagos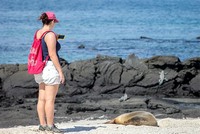 Travelling To Galapagos Islands Destinations and Places Galapagos Islands 2017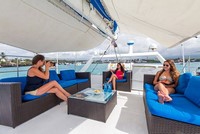 Galapagos South America Destinations and Places Galapagos Islands 2017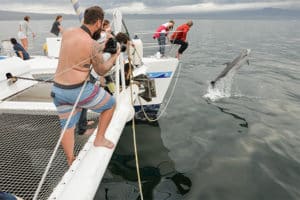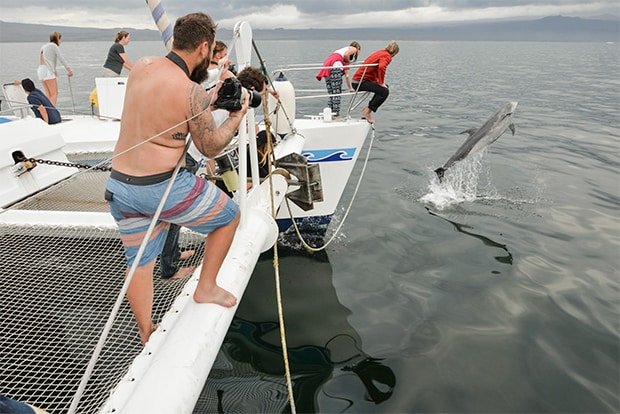 Tourism to the Galapagos Islands September 2020