Here is everything you want to consider to plan the most amazing trip you can imagine: Luxury Galapagos. Ecuador Tours Galapagos Islands 2017
Are you looking for a trip to the Galapagos Islands? In our portal you will find the information required to book your trip to the beautiful Galapagos Islands, a sanctuary still virgin where fauna is incredible.
Amazing landscapes, a surprising variety of species and formations of volcanic origin that whisper a story of millions of years, are characteristics that fall in love with those who travel to the Galapagos Islands, a wilderness where there are almost two thousand unique species, including the famous land iguanas and the Galapagos sea lions.
Location of the Galapagos Islands
They are located in the Pacific Ocean a thousand kms from the coast of Ecuador, being its closest city Manta. The nearest island is Isla Del Coco (Costa Rica) 720 kilometers to the north and Isla de Pascua (Chile) 3,200 kilometers to the south. Formally, its name is officially archipelago of Columbus and its location is between 89 ° and 92 ° of western length; and 1 ° 40 'north latitude and 1 ° 30' south latitude.
Here are some of the magical places that can be visited in some of our trips around the Galapagos Islands. It is possible to book online and receive a discount if you buy in advance. Do not miss the opportunity to know one of the most beautiful places on the planet. If you are looking for cruises for one or more people, this is the best choice.
Santa Cruz Island: Thanks to its location in the center and its proximity to the Baltra airport, is one of best known Galapagos tourist places, housing the city with the largest population of all, from where they leave the most of the boats visiting other islands and islets. One of its biggest tourist attractions is The Station Scientific Darwin, a center of scientific research open to the visitors, where is possible observe terrestrial lizards and turtles of big magnitude. Another site that highlights in Santa Cruz Island corresponds to Turtle Bay, paradise white sands beach and crystal clear waters, to the coasts arrived hundreds of turtles to lay their eggs.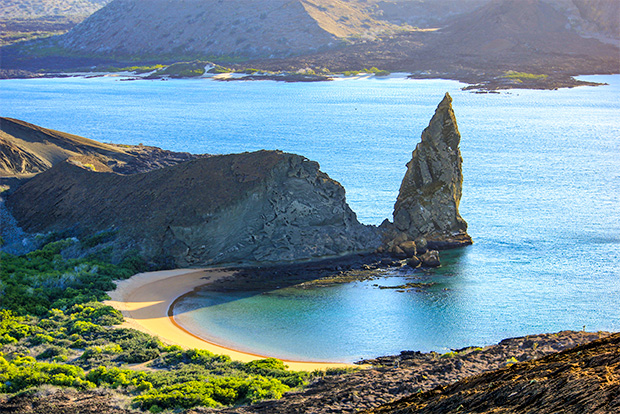 Leon Dormido on San Cristobal Island: A place also called Kicker Rock; correspond to two huge rock formations of lava, which rise for more than 100 meters over the ocean, which can be from the ocean from Puerto Baquerizo. Its curious name comes from similarity to a sleeping sea lion, to see them from a distance. This place is one of the most famous tourist areas of Galapagos for snorkeling and diving, being possible to swim with stingrays, sharks, sea lions and fishes. Its sharp rocks also make of the habitat of enormous colonies of birds, coexisting varieties like blue-footed boobies, frigate birds and pelicans.
Santa Fe Island: Uninhabited island by the man, known for beaches of calm waters in the Barrington Bay, where you can walk in both arenas where sea lions abound like diving snorkeling surface. If you like animals, you can see giant land iguanas, unique animals of this island, which reach up to a meter in length.
Get inspired
These cruise trips are famous for being a great source of inspiration, concentration and creative strength. Many writers, singers and sculptors have assured that traveling through the Galapagos Islands has given them creative ideas. For both professionals and amateurs, this is an interesting opportunity for those who seek to receive the visit of the muses.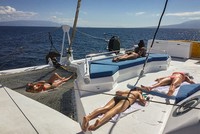 Galapagos Cruising Ecuador Tours Galapagos Islands 2017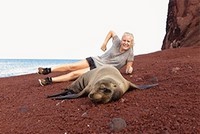 Anahi Galapagos Cruise Ecuador Tours Galapagos Islands 2017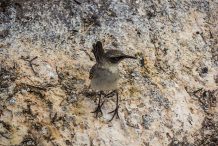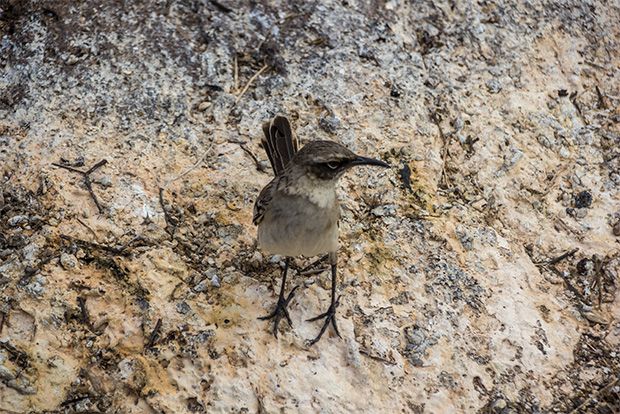 Diving Galapagos Islands 2018