Plan your vacation to the Galapagos Islands: conditions, panoramas and data that you cannot forget. Express Travel to Galapagos Islands February 2018
Do you want to spend the most incredible vacations of your life in an incredible trip to the Galapagos Islands? Travel in a luxury catamaran to discover this extraordinary place, with unique landscapes and lots of places to visit. It will be a magical life experience you will not forget.
Undoubtedly a true museum of biodiversity, the archipelago hide a myriad of natural treasures, unique landscapes including spawning turtles on white sand beaches, blue-footed pelicans, giant colonies of San Cristobal or the immaculate stages of North Seymour.
If you are looking for a brief summary of what you may be surprised to visit the paradisiacal Galapagos Islands in a luxury cruise, we show several of the tourist sectors that you can visit. If you have questions about the trip and the days, please contact us.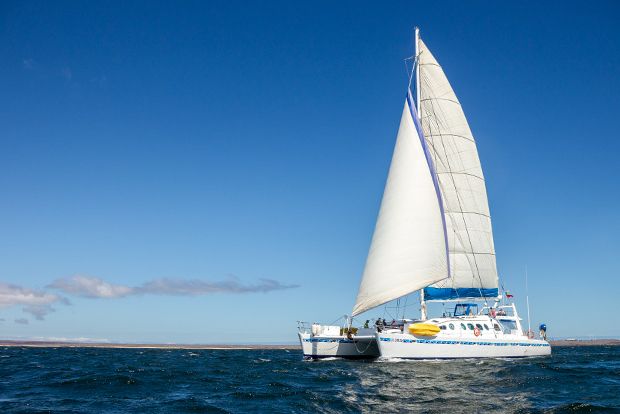 Santa Cruz Island: Thanks to its location in the center and its proximity to the Baltra airport, is one of best known Galapagos tourist places, housing the city with the largest population of all, from where they leave the most of the boats visiting other islands and islets. One of its biggest tourist attractions is The Station Scientific Darwin, a center of scientific research open to the visitors, where is possible observe terrestrial lizards and turtles of big magnitude. Another site that highlights in Santa Cruz Island corresponds to Turtle Bay, paradise white sands beach and crystal clear waters, to the coasts arrived hundreds of turtles to lay their eggs.
Isabella Island: Even though is the largest island of all, it has a unique town corresponding to Villamil Port, a beautiful village in which there are numerous accommodations and whose atmosphere is notable for being rather more quiet than Ayora Port. Inside its main attractions stand out Punta Moreno, where live flamingos and many other types of birds, from where you have a beautiful view of Sierra Black, Blue Hill and the top of Fernandina Island. To discover other kinds of wildlife is a good idea to move to Urbina Bay, where there are iguanas, sea lions, cormorants, penguins and blue-footed boobies.
Punta Espinoza on Fernandina Island: Punta Espinoza is a fine lava and sand ledge that connects the Fernandina volcano with the sea, famous for its marine iguana population, whose high number sometimes makes it difficult to walk between them. They share the space with iguanas, penguins, sea lions, crabs and the non-flying cormorant, a species that can only be seen in Fernandina and Isabela, well known for being the only cormorant that has lost the ability to fly. The surrounding environment is made up of lava fields of the volcano, one of the most active in the world.
Daphne Major: The Daphne Islands (Daphne Major and Minor) are two small islands of volcanic origin in the Galapagos Islands archipelago. The largest has an area of 0.39 km². Daphne Mayor is located at the north of Santa Cruz. It is formed by a crater of lava, has no trees and very little vegetation and the edge is 120 meters above sea level. There are many breeding birds that go to raise their chicks in the environment near to the crater. Although easily accessible to visitors, the Park Service does not allow many visits to this island and are mostly dedicated to scientific research.
GalapagosInformation, leaders in all-inclusive catamaran trips
Luxury rooms, traditional meals and trips designed to take advantage of our time to the maximum are our hallmark of quality.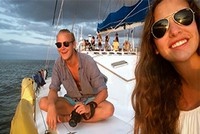 Cruise Island Express Travel to Galapagos Islands February 2018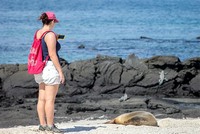 Ecuador Galapagos Travel Express Travel to Galapagos Islands February 2018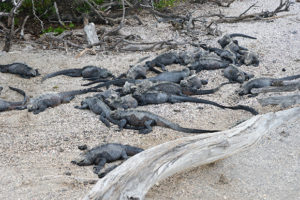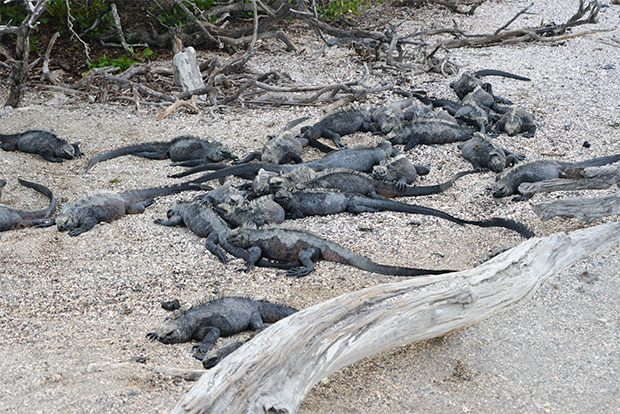 Family catamarans to the Galapagos Islands August 2020