Here is everything you want to know to plan the most incredible trip you can imagine: Galápagos All Inclusive. Holidays to the Galapagos Islands March 2018.
The Galapagos Islands are an ideal destination for family groups who desire an experience that will change their lives. It is not simply a holiday trip like many others, but a wonderful trip in one of our ships that will allow you to know in detail the beautiful islands and islets of this place.
In terms of climate in the Galapagos Islands there are two clearly differentiated seasons. The rainy season runs from January to May, with average temperatures between 23 ° and 27 °, and a dry season from June to December, averaging 19 °. The official currency of the place is the US dollar, which is important to remember not to change all the money that we have available in Quito or Guayaquil.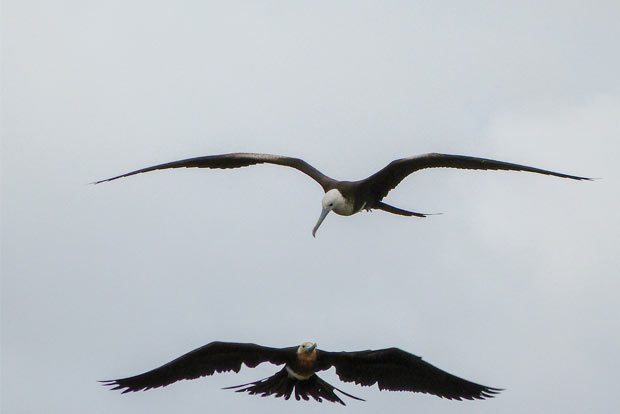 Do you want to know what to do in the Galapagos Islands? Here is the solution! Hiring with GalapagosInformation.com a trip to the islands, you can spend up to two weeks knowing all the beauties that this charming place of Ecuador has to offer. All inclusive trips can be booked online up to 30 days before your arrival, with the possibility of payment by card or transfer.
Genovesa Island: Genovesa island is also known as the island Tower and is considered as the most striking island of the archipelago. Its name comes from the city of Genova in where according to few historians was the birthplace of Columbus. It is the ideal place for lovers of birds by the abundant presence of birds, highlighting some as seagulls of tail separated, which are the only gulls in the world who have nocturnal hunting habits. Genovesa Island is an extinct volcano, which has suffered several landslides due to its ancient activity. Have 2 areas to go to which is can access through a fissure that exists to the feet of the volcano… Makes thousands of years were a huge volcano, whose wall south is collapsed, forming the Great Bay of Darwin, place in where an abundant number of birds make their nests.
La Lobería on San Cristobal: One of the most visited places in the Galapagos is this beautiful beach of coral sand and crystalline waters, named after the large number of sea lions that can be seen every day, lying between the rocks or plunging into the sea. In addition to sea lions, turtles and sea iguanas are frequent on the beach, as well as several species of birds, such as the Maria canary, frigates and various kinds of finches. It is also possible to snorkel and if you have good fortune to swim with a sea lion.
Santa Fe Island: Uninhabited island by the man, known for beaches of calm waters in the Barrington Bay, where you can walk in both arenas where sea lions abound like diving snorkeling surface. If you like animals, you can see giant land iguanas, unique animals of this island, which reach up to a meter in length.
Chinese Hat: Chinese Hat is a small island close to the southeast of the Santiago Island and whose extension is less than a 0.25 km2. It's a recent volcanic cone. The traditional form of the Chinese hat can be seen clearly from the north side. In front of Chinese hat, on the rocky edge near to Santiago, you can see easily the galapagos penguins. A short 400m long trail passes through the cove, and steps from a colony of sea lions and iguanas that covering the horizon. The volcanic scenery is very interesting, and it is possible to practice snorkel.
GalapagosInformation.com, specialist in catamaran tours all inclusive
Fully equipped rooms, exotic foods and tours designed to take advantage of the time to the maximum are our guarantee to our customers.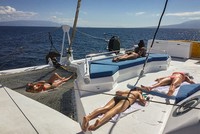 Island Adventure Cruises Holidays to the Galapagos Islands March 2018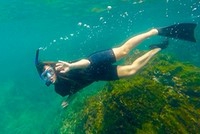 Galapagos Travel Tips Holidays to the Galapagos Islands March 2018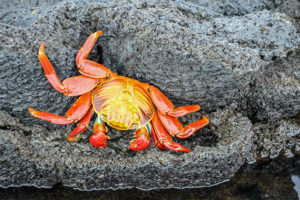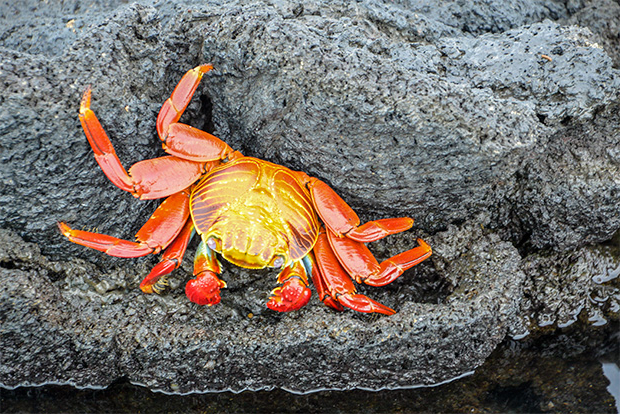 Cruises to the Galapagos Islands for 10 people November 2017