Find here everything you want to keep in mind to plan the best trip of your life: Luxury Galapagos. Offer Cruises to the Galapagos Islands October 2020.
On our website you can find a wide variety of catamaran trips to the Galapagos Islands, one of the most important sanctuaries in the world, and established as a World Heritage Site by UNESCO. You can book your tickets with us to enjoy a lush nature aboard our catamarans.
Amazing landscapes, a biodiversity that does not leave indifferent and volcanic rocks that tell a historical account of five million years, are three unique characteristics that fall in love with those who travel to the Galapagos Islands, a virgin territory where we can find almost two thousand species endemic species, including the famous marine iguanas and the Galapagos dwarf heron.
If you want a small summary of what you can find when traveling to the paradisiacal Galapagos Islands on a catamaran cruise, we point out a series of sectors of tourist interest that can be known. If you have questions about payment terms and days, do not hesitate to contact us.
Genovesa Island: Genovesa island is also known as the island Tower and is considered as the most striking island of the archipelago. Its name comes from the city of Genova in where according to few historians was the birthplace of Columbus. It is the ideal place for lovers of birds by the abundant presence of birds, highlighting some as seagulls of tail separated, which are the only gulls in the world who have nocturnal hunting habits. Genovesa Island is an extinct volcano, which has suffered several landslides due to its ancient activity. Have 2 areas to go to which is can access through a fissure that exists to the feet of the volcano… Makes thousands of years were a huge volcano, whose wall south is collapsed, forming the Great Bay of Darwin, place in where an abundant number of birds make their nests.
Sullivan Bay on Santiago Island: Sullivan Bay, home to one of the archipelago most unknown with natural habitats, with incredible lava fields in a wavy form, very similar to a mars landscape. A route of little more than a mile and a half, it allows to pass through the most relevant places of interest of the Bay, being within reach us impressive mineral samples, among them are molds of trees, before being calcined by the old volcanic eruptions of the site.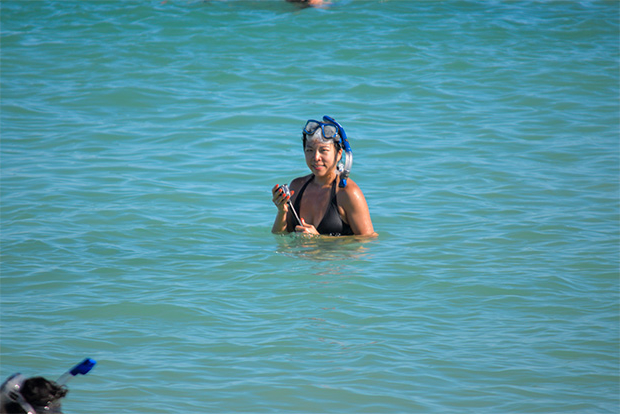 North Seymour Islet: Covered with low vegetation and dense, is notable for its almost immaculate state of nature, something that is more difficult to find in larger islands. The tour is conducted based on a trail of 2 km in length that crosses it from end to end, route that allows crossing with frigates, land iguanas and sea lions.
Chinese Hat: Chinese Hat is a small island close to the southeast of the Santiago Island and whose extension is less than a 0.25 km2. It's a recent volcanic cone. The traditional form of the Chinese hat can be seen clearly from the north side. In front of Chinese hat, on the rocky edge near to Santiago, you can see easily the galapagos penguins. A short 400m long trail passes through the cove, and steps from a colony of sea lions and iguanas that covering the horizon. The volcanic scenery is very interesting, and it is possible to practice snorkel.
Environment
In our catamaran trips it is possible to see and enter the home of animal species that have evolved for ages, with incredible wealth and, fortunately, still intact.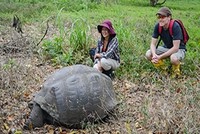 Cruises To Galapagos Islands Offer Cruises to the Galapagos Islands October 2020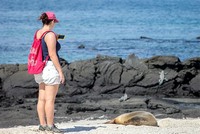 Trip To Galapagos Island Offer Cruises to the Galapagos Islands October 2020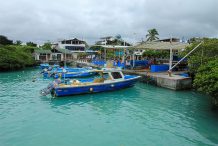 Cruise to the Galapagos Islands from Botswana