Plants and animals of the Galapagos Islands: beauty and nature combined. Tourism to Galapagos for Valentine's Day
The Galapagos Islands, known throughout the world, are the product of successive volcanic eruptions. Due to particular location they have allowed the emergence of unique flora and fauna in the world, a wealth difficult to believe. For this reason they are one of the favorite places of all travelers who love wildlife.
Usually two large stations can be considered. From December to June it is called Hot Season. And the second climatic season that goes from June to November is called Dry Season. The best time to take advantage of the Galapagos Islands is the transition months. However every month of the year is valid to reach the islands, there is no month in which the weather is bad or you cannot see peculiar flora and fauna to know.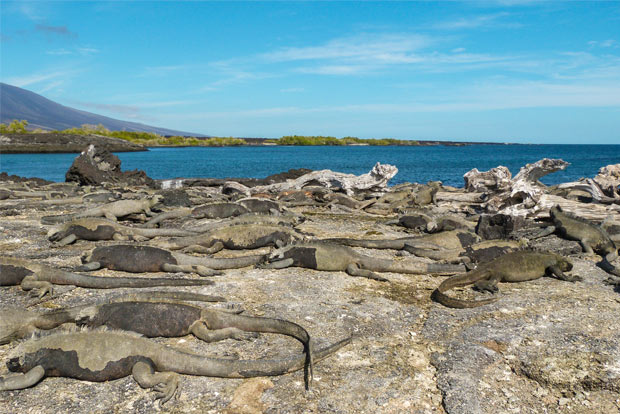 When there are two seasons so different from each other, those that signal the beginning or the end of mating for the vast majority of species, there are months in which both phases can be seen at the same time. There is a transition between the hot season and the dry season (April to June), and later a transition between the dry season and the hot season (November to January).
If you want a brief summary of what you can find when traveling to the Galapagos Islands on a cruise for a week, here are some of the places of interest that you can visit. In case of doubts about the conditions of payment and the days of duration, do not hesitate to contact us.
Espanola Island: With 300 million years corresponds to the oldest island famous for its number of birds, among which are the funny blue-footed boobies, birds known for their mating rituals, where the male exhibits his blue feet to the female. One of its most interesting sites is Punta Suarez, an area of abyss in where we can see species that not is presented in the rest of the archipelago, as marine iguanas turquoise with red, mockingbirds, lava lizards and colonies of up to 15.000 albatross
Leon Dormido on San Cristobal Island: A place also called Kicker Rock; correspond to two huge rock formations of lava, which rise for more than 100 meters over the ocean, which can be from the ocean from Puerto Baquerizo. Its curious name comes from similarity to a sleeping sea lion, to see them from a distance. This place is one of the most famous tourist areas of Galapagos for snorkeling and diving, being possible to swim with stingrays, sharks, sea lions and fishes. Its sharp rocks also make of the habitat of enormous colonies of birds, coexisting varieties like blue-footed boobies, frigate birds and pelicans.
North Seymour Island Trail: The small island of Seymour North is considered one of the most extraordinary places on the islands to see birds, housing the largest colony of royal frigates, as well as blue-footed boobies and bifurcated seagulls. The island maintains only a running trail, which, two kilometers in length allow us to appreciate its rocky landscapes, where there are only some shrubs and cactus, there are countless birds and iguanas.
Daphne Mayor: The Daphne Islands (Daphne Major and Minor) are two small islands of volcanic origin in the Galapagos Islands archipelago. The largest has an area of 0.39 km². Daphne Mayor is located at the north of Santa Cruz. It is formed by a crater of lava, has no trees and very little vegetation and the edge is 120 meters above sea level. There are many breeding birds that go to raise their chicks in the environment near to the crater. Although easily accessible to visitors, the Park Service does not allow many visits to this island and are mostly dedicated to scientific research.
GalapagosInformation.com, leaders in all inclusive cruise tours
Luxury rooms, typical dinners and tours designed to take advantage of our time to the maximum are our promise to all our customers.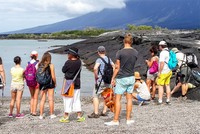 Vacation Galapagos Tourism to Galapagos for Valentine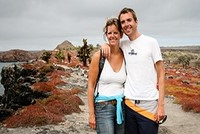 Cormorant Galapagos Cruise Tourism to Galapagos for Valentine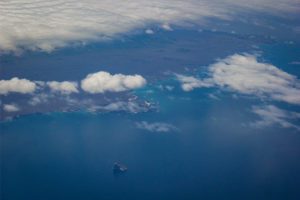 Traveling to the Galapagos Islands