Animals and plants of the Galapagos: beauty and nature mixed in a magic mix. Travel in Cruise to Galapagos Islands in May.
At GalapagosInformation.com is a great variety of cruises to the Galapagos Islands, one of the best-known nature sanctuaries in the world, and established as a World Heritage Site by UNESCO. You can buy your trip now to start enjoying a lush nature on our exclusive catamarans.
In terms of climate in the Galapagos Islands there are two distinct seasons. The rainy season is from January to May, with average temperatures between 23 ° and 27 °, and a rainy season from June to December, with a maximum of 19 °. The official currency is the US dollar, which is useful to know to avoid changing all the money on the continent.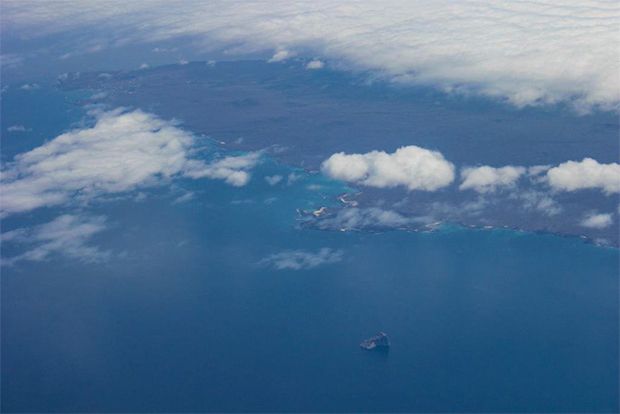 Do not know what to do in the Galapagos Islands? Do not worry! Hiring with us a tour of the islands, you can spend up to two weeks knowing all the natural beauties that this incredible place of Ecuador has to offer. All inclusive trips can be requested online up to 30 days before your arrival, with the possibility of payment by credit card.
Ranchos of Santa Cruz: Although it is known that in several islands of Galapagos you can see breeding sectors of giant tortoises, there is no more advisable alternative, than to appreciate them in freedom, something that puts at our disposal ranchos and haciendas in the high zones of the island of Santa Cruz. Some of these places are El Chato, Manzanillo and Primicias, with paths that respect the environment, where you can easily see these exotic animals in their natural environment. It is important to emphasize that, during the period from June to August; turtles tend to move to the lowland of the island to nest, diminishing the possibility of observing them.
Santiago Island: Paradise uninhabited by humans, characterized by its unique volcanic formations, beautiful beaches and diving sites where diving into a unique biodiversity.One of the major attractions is the Sullivan Bay, where there are amazing lava formations that have altered the surface with soft waves, a perfect place to see large colonies of marine iguanas and Red-legged crabs. Among its beaches attract attention such Espumilla Beach, which has a spectacular landscape of forests of lignum and sea turtles that come to spawn in its coasts; as Puerto Egas, a beautiful beach with black volcanic sand, where as in Sullivan Bay is easy to observe a significant number of sea iguanas. Cousin's Rock ends to increase the attractive of the island Santiago, undoubtedly one of the most important places of diving in the world, is a triangular rock that is to ten meters above the water, and in whose waters is possible to dive between dark coral, endemic seahorses, sea lions, sharks tip white, hammerheads, eagle rays and stingrays.
Rabida Island: Island very famous for its beaches of reddish tones, where you can snorkel between sea lions, stingrays and dolphins. Although the colors of the sand is attractive more important, you can also visit the interior of the island, reaching the volcanic peak, spectacular viewpoint of natural origin that allows views of the peaks of other volcanoes.
Chinese Hat: Chinese Hat is a small island close to the southeast of the Santiago Island and whose extension is less than a 0.25 km2. It's a recent volcanic cone. The traditional form of the Chinese hat can be seen clearly from the north side. In front of Chinese hat, on the rocky edge near to Santiago, you can see easily the galapagos penguins. A short 400m long trail passes through the cove, and steps from a colony of sea lions and iguanas that covering the horizon. The volcanic scenery is very interesting, and it is possible to practice snorkel.
Power your creativity
These trips are recognized for be a source of inspiration, concentration and creative strength. Many filmmakers, songwriters and actors have said that walking the Galapagos Islands has given them new ideas. Whether it is professionals as enthusiasts, this is a great opportunity for all those who seek to receive the visit of the muses.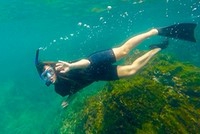 Santa Cruz Galapagos Travel in Cruise to Galapagos Islands in May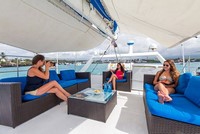 Tour Operator Galapagos Travel in Cruise to Galapagos Islands in May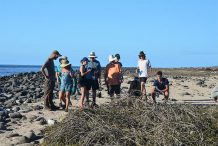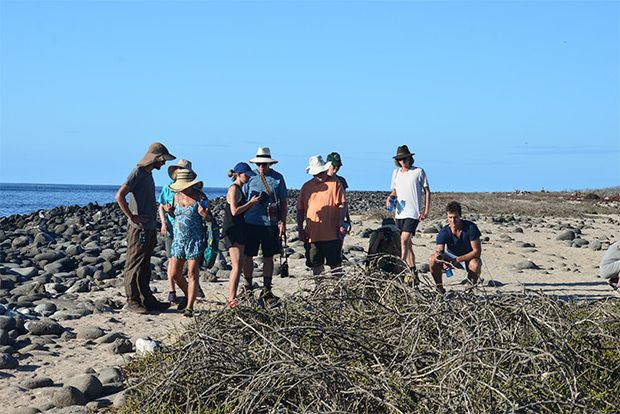 Cruise to the Galapagos Islands from Romania