When packing, you will need to bring light tropical clothes for the Galapagos Islands Cruises. Any clothing you bring should be lightweight, quick drying, and breathable. This is a sub-tropical kayaking and boating journey, and you will be exposed to very strong sun, wind, and water for well over a week. Long sleeves and wide brim hats are recommended. Many guests have lived in their swimsuits with just a light shirt to protect their arms, shoulders, and back from sun.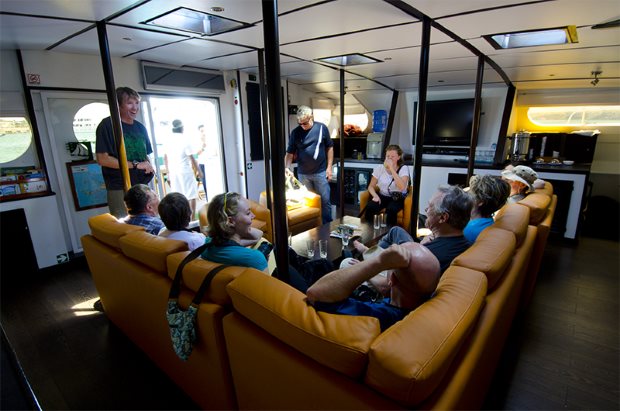 In general, you'll want loose cotton/synthetic blend clothing for the hotter parts of the trip and some extra layering for night. We have not included quantities for each item listed. In Galapagos Islands cruises Use your own judgment, based on the expected weather conditions and overall packing and weight restrictions for your luggage. Keep in mind that some of what you bring may get sweaty, wet, and possibly mildew due to ocean sailing and sea kayaking. You will also encounter dust, sand, and salt, and may feel a little grubby from time to time. Please leave all fancy clothing and jewelry at home (sports jackets and fancy dresses are not necessary on this trip). You can wash out clothing in the sink and dry them on the line, on deck.
Underwear
Regular underwear. Synthetics are easier to wash and dry.
Shirts
Long-sleeved and light, synthetic or cotton shirt. Today's new synthetics and cotton/synthetic blends are a real boon for travelers because they are featherweight, durable, wrinkle-resistant, and they dry quickly. It is good to bring long-sleeved shirts for paddling to protect your arms from the scorching sun.
Short-sleeved synthetic or cotton T-shirts.
Trousers & Skirts
Full-length light pants, preferably of quick-drying synthetic fabric. Most people like to paddle in long pants to avoid being burnt by the sun on their legs.
Hiking shorts, preferably of a synthetic fabric.
Optional—Full-length hiking skirt or pareo (a cloth wrap).
 Swimwear
Swim trunks or a swim suit. A change of bathing suits is strongly recommended to avoid salt water rash.
Head Wear
Sun hat with wide brim, preferably with a chin strap to keep it from blowing off when you're on the boat or kayaking.
Bandana. It will keep your neck from getting sunburned and can double as an extra hand towel.
Foul Weather Gear
Light rain jacket. This is especially useful in the Ecuadorian highlands.
Light fleece or sweater. Evenings can get cool.
Hand Wear
Optional—paddling gloves—if you are prone to blisters while paddling.
Socks
Light-weight hiking socks of synthetic or wool/synthetic blend.
Athletic socks (synthetic).
Footwear
This is where the rubber meets the road – take care in your choice. Sturdy, properly fitting footwear can make your trip much more pleasurable. We suggest bringing at least two pairs:
For the city: Comfortable walking shoes for city touring and for your flights.
For hiking: We recommend making your walking or paddling shoe a multi-purpose shoe so that you don't need 3 pairs, but if you need ankle support you may want to bring a third pair: light or medium-weight hiking boots with good soles for day hikes. It's rocky on the islands so sandals are not always a good option. If your walking shoes have good tread, they can also be used on the hikes. Some people like to use Keen sandals (the model known as Newport H2), which are great for paddling but which also protect the feet and have hiking soles.
For paddling: Sandals or similar for paddling that protect your feet from the reef, rough lava, and broken shells. We do not recommend Velcro closures as they tend to clog with the fine tropical sand; a quick snap closure or buckle is recommended. Keep in mind that we always launch our kayaks from the yacht and return to the yacht as we are not permitted to land ashore with kayaks in the park, so you can kayak with just bare feet. If you prefer to paddle with bare feet be particularly careful to cover your feet and toes well with sunblock.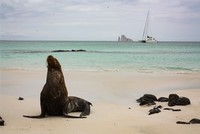 Cruises To Galapagos What to wear in Galapagos Islands?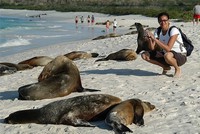 Galapagos Conservation What to wear in Galapagos Islands?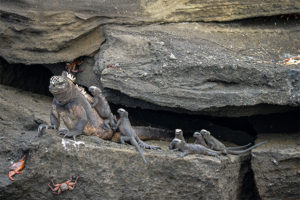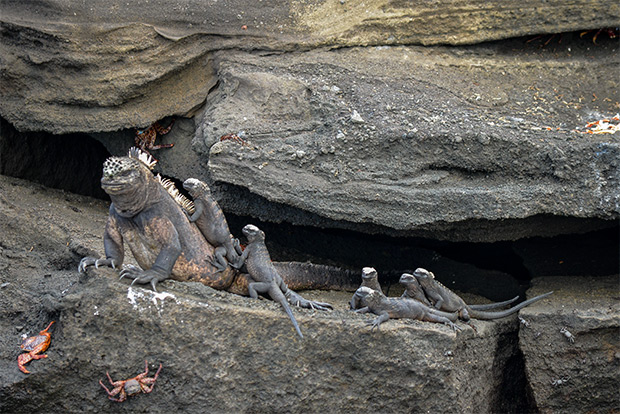 Discount Cruises to the Galapagos Islands August 2020